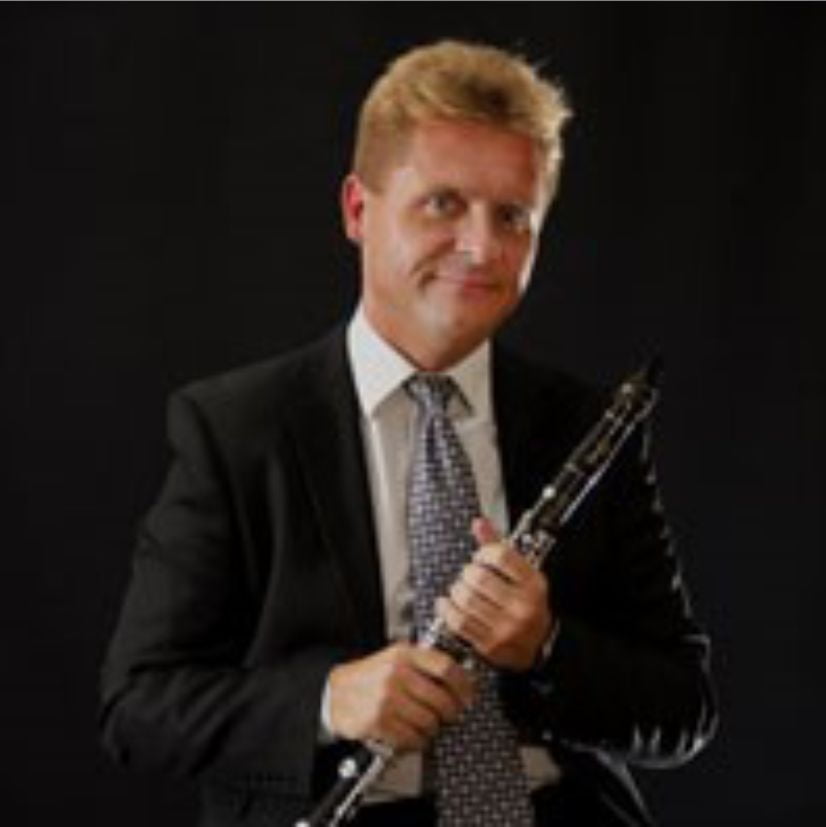 Radovan Cavallin was born in Zagreb, Croatia in 1969. At the age of thirteen he was the youngest student ever to have entered the Academy of Music of Zagreb University obtaining a Diploma with distincion four years later. In 1986 he was chosen from 76 candidates to enter the Paris National Superior Conservatory of Music. There he obtained:
– 1st superior prize of chamber music, given unanimously in the class of Christian Lardé in 1988.;
– 1st superior prize for clarinet given unanimously in the class of Guy Deplus in 1989. During his studies in Paris he was awarded four grants;
– 1986 the Ivo Pogorelich grant;
– 1987 the Nadia and Lily Boulanger grant;
– 1988 and 1989 the french government grant.
He has won prizes in the following competitions:
– 1st prize at the National Yugoslavian Competition for clarinet in 1981, 1983, 1995, and 1986.;
– 1st prize at the International competition for clarinet in Ancona, Italy in 1984.;
– 1st prize from musical critics of the "Vjesnik" newspaper in Croatia (1985).
– 1st prize "Dragan Gürtl" from the Academy of Music of Zagreb (Croatia) for being the most outstanding student and performer of clarinet in 1986
– "Union of Universities of Zagreb" prize for being the youngest and most outstanding student of clarinet in 1986.
– 2nd prize at the International competition for clarinet "Ciudad de Dos Hermanas", Seville, Spain in 1995.
During his studies in Croatia and France he studied with: Petar Fabijanic, Josip Nochta, Guy Deplus and Guy Dangain. He has performed over 400 concerts as a soloist in Croatia, Slovenia, Bosnia, Macedonia, Serbia and Montenegro, Kosovo, Italy, France, Japan, Belgium, Portugal, Germany, Spain, Colombia and the former Chechoslovakia accompanied by: Warsaw Symphony Orchestra, Poland; National Symphony Orchestra of Gotvaldow, (former Chechoslovakia); Symphony Orchestra of Budio Theatre of Bologna, Italy; "Soloist of Zagreb"; Zagreb Symphony Orchestra of Radio and Television, Croacia; Zagreb Philharmonic Orchestra; Zagreb Chamber Orchestra; Belgrade Symphony Orchestra, Serbia; Gran Canaria Philarmonic Orchestra, Spain; Gran Canaria Symphony Orchestra; The French-Belgium Orchestra of Bruselles, Extremadura Philharmonic Orchestra etc.
He has made appearances at the festivals of Ferrara, Italy; Dubrovnik, Croatia; Bad Hersfeld, Germany; Granada, Spain, Clarinetissimo, Brussels, Belgium, Lisbon, Portugal and recordings for Croatian, French and Spanish radio and companies such as Croatia Records, Yugoton, Agrup Arte Producciones, Maguelone (sponsored by SELMER,Paris), Cristal Records, ASV, Summit Records and Arte Nova BMG.
He has given Clarinet Master Classes in: Zagreb (Croatia), Milna Brac, (Croatia), Groznjan, (Croatia) Opatija, (Croatia), Brussels Superior Conservatoir (Belgium), Lisbon National Clarinet Congress(Portugal), Madrid Royal Superior Conservatoir (Spain), Murcia Superior Conservatory, (Spain) Banda Municipal de Albacete, (Spain) Avila, (Spain) Quintanar de la Orden-Toledo (Spain), Areciffe, Arucas, Firgas, Las Palmas (Spain); Ibague, (Colombia) and also been a member of the jury at the 1oand 2a,3o and 4oInternational Clarinet Competition "Julian Menendez" in Avila, Spain Since 1989 he has held the position of principal clarinet and professor of the Academy of the Gran Canaria Philarmonic Orchestra in Spain working with conductors such as Rostropovich, Jurovski, Rhozdestvensky, Lopez Cobos, Herbig, Frubeck de Burgos, Gianandrea Noseda, Norman del Mar among others. He is also a founding member of the following chamber music groups:
– Cuarteto Atlántida
– Trío Spohr
– Cuarteto Reinecke
– Ensemble Isola
– Alisios Camerata
From 2002-2010 he was a clarinet professor at "Conservatorio Superior de Musica de Canarias" in Las Palmas. Radovan Cavallin is Backun, Selmer and Rico Artist and performs on Backun Moba arabesque mouthpiece, barils and bells, SELMER "Privilege" clarinet and Rico reserve Classic reeds.